WEEKLY BRIEFING
Biopic Business Gives
A Taste of Immortality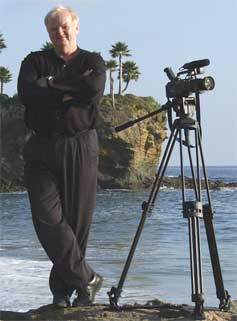 Hebb: For posterity
Brian Hebb considered vanity, then considered the legions of the wealthy in Southern California, and was inspired to pursue a novel avenue for his production company. Robert-Royce Co. in Beverly Hills. He's now making personal video biographies – a movie about your life, starring you. The 54-year-old Nova Scotian cinematographer, who for years filmed documentaries, TV dramas and movies, now offers life stories ("the Cameo," 4-8 minutes; "The Character," 10-15 minutes; "The Star," 20-30 minutes and "The Legend" 45-90 minutes) on DVD.
"I wanted to do something that I could be more creative with that was multimedia, photo, film and video. A lot of multimedia companies are doing the same things – films for corporate advertising, training, infomercials. But not many people are doing this. I was driving down (Pacific Coast Highway) past Palos Verdes, thinking, wow, there's so many people with interesting lives here who have lots of money. Poof, this bolt of lighting hit me: I can tell their stories.
"I started doing the biographies two years ago. I've done five of them so far. I had to educate myself about business. I was used to being behind the camera, not getting out and talking to people about business. I took Dale Carnegie's course in Long Beach, a private business course, and I joined Toastmasters and bought every available good business book from Amazon. The company is just me and I work with a lot of freelancer editors, cinematographers, directors and writers, so that keeps my operation cost-efficient.
"It's not just the influence of the entertainment industry, it's also the wealth here. Doing this isn't cheep. Prices range roughly $800 to $1000 per finished minute. The staff I hire depends on how intricate it gets. It depends if they want me to go to New York or Europe to interview family members. It works out to about the same price as a corporate training video or infomercial.
"I figure out what it is they want to say and what they want to do. I'll turn them down if I feel I can't make a decent, interesting film of it. I've turned down some people who just want me to film them talking. In the end, my company name will be on this.
"In a hundred years, you can still be here. For most of us, what's really left of us in a hundred years is usually an old picture in the bottom of someone's drawer. This is a chance to leave your personality, a legacy, and show that you matter."